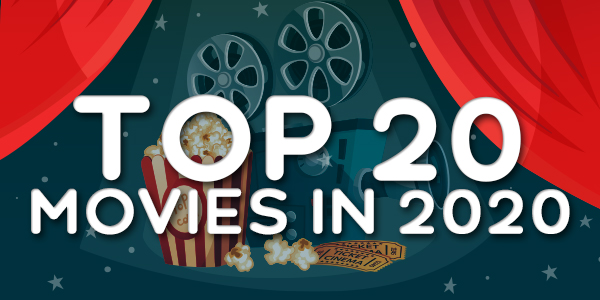 A new year means one thing for all us screen buffs…NEW MOVIES!!!
From terrifying horrors to quirky comedies 2020's most highly-anticipated movies certainly have it all.
Don't tell the boss but we have spent some time **hours cough, cough** watching all the upcoming movie trailers to bring you our Top 20 movies in 2020.
(Ranked by date of release in Australia)
What will you see?
---
The Grudge [January 9]
Producer Sam Raimi brings us a twisted new take of the horror classic. Directed by Nicolas Pesce, The Grudge stars Andrea Riseborough, Demián Bichir, John Cho, Betty Gilpin with Lin Shaye and Jacki Weaver.
A single mother and young detective, Muldoon (Andrea Riseborough), discovers that a suburban house is cursed by a vengeful ghost that dooms those who enter it with a violent death. Now, she runs to save herself and her son from demonic spirits from the cursed house in her neighbourhood.
Discover why Nightmarish Conjurings calls #TheGrudge "haunting." See the twisted new chapter, now playing in theaters. 🎟️→ https://t.co/PZHMn5sLRm@Nightmar1sh pic.twitter.com/rCtYvUuVdo

— The Grudge (@GrudgeMovie) January 5, 2020
Twitter: @GrudgeMovie
---
1917 [January 9]
At the height of the First World War, two young British soldiers, Schofield (George MacKay) and Blake (Dean-Charles Chapman) are given a seemingly impossible mission.
In a race against time, they must cross enemy territory and deliver a message that will stop a deadly attack on hundreds of soldiers - Blake's own brother among them.
If they fail, it will be a massacre. See #1917movie in select theaters Christmas Day. pic.twitter.com/L0YW9L5U79

— 1917 (@1917) December 16, 2019
Twitter: @1917
---
Dolittle [January 16]
After losing his wife seven years earlier, the eccentric Dr. John Dolittle (Robert Downey Jr.), famed doctor and veterinarian of Queen Victoria's England, hermits himself away behind the high walls of Dolittle Manor with only his menagerie of exotic animals for company.
But when the young queen (Jessie Buckley) falls gravely ill, a reluctant Dolittle is forced to set sail on an epic adventure to a mythical island in search of a cure, regaining his wit and courage as he crosses old adversaries and discovers wondrous creatures.
He's just not a people person. #DolittleMovie pic.twitter.com/NXJxOytqyH

— Dolittle (@DolittleMovie) October 12, 2019
Twitter: @DolittleMovie
---
Just Mercy [January 10]
A powerful and thought-provoking true story, Just Mercy follows young lawyer Bryan Stevenson (Michael B. Jordan) and his history-making battle for justice.
After graduating from Harvard, Bryan had his pick of lucrative jobs. Instead, he heads to Alabama to defend those wrongly condemned or who were not afforded proper representation, with the support of local advocate Eva Ansley (Brie Larson).
One of his first, and most incendiary, cases is that of Walter McMillian (Jamie Foxx), who, in 1987, was sentenced to die for the notorious murder of an 18-year-old girl, despite a preponderance of evidence proving his innocence and the fact that the only testimony against him came from a criminal with a motive to lie. In the years that follow, Bryan becomes embroiled in a labyrinth of legal and political manoeuvrings and overt and unabashed racism as he fights for Walter, and others like him, with the odds - and the system - stacked against them.
Heroes Exist. #JustMercy is in select theaters December 25, everywhere January 10. https://t.co/TvI9jdCUEM pic.twitter.com/d9clHVPydR

— Just Mercy (@JustMercyFilm) December 11, 2019
Twitter: @JustMercyFilm
---
A Beautiful Day in the Neighbourhood [January 23]
Tom Hanks portrays Mister Rogers in A Beautiful Day in the Neighborhood, a timely story of kindness triumphing over cynicism, based on the true story of a real-life friendship between Fred Rogers and journalist Tom Junod.
After a jaded magazine writer (Matthew Rhys) is assigned a profile of Fred Rogers, he overcomes his scepticism, learning about empathy, kindness, and decency from America's most beloved neighbour.
Welcoming you with open arms to #ABeautifulDayMovie, in theaters Thanksgiving. pic.twitter.com/eZAInOIx4b

— A Beautiful Day in the Neighborhood (@ABeautifulDay) November 3, 2019
Twitter: @ABeautifulDay
---
Birds of Prey [February 6]
You ever hear the one about the cop, the songbird, the psycho and the mafia princess?
Birds of Prey is a twisted tale told by Harley herself, as only Harley can tell it. When Gotham's most nefariously narcissistic villain, Roman Sionis, and his zealous right-hand, Zsasz, put a target on a young girl named Cass, the city is turned upside down looking for her.
Harley, Huntress, Black Canary and Renee Montoya's paths collide, and the unlikely foursome have no choice but to team up to take Roman down.
Mayhem at its finest. See #BirdsOfPrey in theaters 2.7.20. pic.twitter.com/oktGFOeXul

— Birds of Prey (@birdsofpreywb) December 4, 2019
Twitter: @birdsofpreywb
---
Sonic the Hedgehog [February 13]
Based on the global blockbuster videogame franchise from Sega, Sonic the Hedgehog tells the story of the world's speediest hedgehog as he embraces his new home on Earth.
In this live-action adventure comedy, Sonic and his new best friend Tom (James Marsden) team up to defend the planet from the evil genius Dr. Robotnik (Jim Carrey) and his plans for world domination. The family-friendly film also stars Tika Sumpter and Ben Schwartz as the voice of Sonic.
Sonic The Hedgehog paints the town blue in the brand new #SonicMovie poster! #CatchSonic in theatres February 14! pic.twitter.com/qoWZlznxpS

— Sonic The Hedgehog (@SonicMovie) November 12, 2019
Twitter: @SonicMovie
---
Fantasy Island [February 13]
In Blumhouse's new spin on Fantasy Island, the enigmatic Mr. Roarke makes the secret dreams of his lucky guests come true at a luxurious but remote tropical resort. But when the fantasies turn into nightmares, the guests have to solve the island's mystery in order to escape with their lives.
This island is a scream. 🏝️💀 @Blumhouse's #FantasyIslandMovie in theaters Valentine's Day. pic.twitter.com/vNAslavh2v

— Fantasy Island (@Fantasy_Island) November 8, 2019
Twitter: @Fantasy_Island
---
The Invisible Man [February 28]
What you can't see can hurt you.
Trapped in a violent, controlling relationship with a wealthy and brilliant scientist, Cecilia Kass (Elisabeth Moss) escapes in the dead of night and disappears into hiding, aided by her sister (Harriet Dyer), their childhood friend (Aldis Hodge) and his teenage daughter (Storm Reid).
But when Cecilia's abusive ex (Oliver Jackson-Cohen) commits suicide and leaves her a generous portion of his vast fortune, Cecilia suspects his death was a hoax. As a series of eerie coincidences turns lethal, threatening the lives of those she loves, Cecilia's sanity begins to unravel as she desperately tries to prove that she is being hunted by someone nobody can see.
November 7, 2019
Twitter: @TheInvisibleMan
---
A Quiet Place Part II [March 20]
Following the deadly events at home, the Abbott family (Emily Blunt, Millicent Simmonds, Noah Jupe) must now face the terrors of the outside world as they continue their fight for survival in silence.
Forced to venture into the unknown, they quickly realize that the creatures that hunt by sound are not the only threats that lurk beyond the sand path.
Check out the new poster for #AQuietPlace Part II. From director @JohnKrasinski. Starring Emily Blunt, Millicent Simmonds and Noah Jupe. In theatres March 20. pic.twitter.com/4bkt4t3Hx4

— A Quiet Place Part II (@quietplacemovie) December 18, 2019
Twitter: @quietplacemovie
---
Mulan [March 27]
When the Emperor of China issues a decree that one man per family must serve in the Imperial Army to defend the country from Northern invaders, Hua Mulan, the eldest daughter of an honoured warrior, steps in to take the place of her ailing father.
Masquerading as a man, Hua Jun, she is tested every step of the way and must harness her inner-strength and embrace her true potential. It is an epic journey that will transform her into an honoured warrior and earn her the respect of a grateful nation…and a proud father.
Check out the official poster for Disney's #Mulan. Tune in tomorrow morning to watch the brand new trailer! pic.twitter.com/OcokPL8Nti

— Mulan (@DisneysMulan) December 4, 2019
Twitter: @DisneysMulan
---
Onward [April 2]
Set in a suburban fantasy world, Disney and Pixar's Onward introduces two teenage elf brothers who embark on an extraordinary quest to discover if there is still a little magic left out there.
Pixar Animation Studios' all-new original feature film is directed by Dan Scanlon and produced by Kori Rae - the team behind Monsters University.
Check out the new poster for Disney and Pixar's Onward. Embark on the quest March 6, 2020. #PixarOnward pic.twitter.com/AnIjhb5T3n

— Disney and Pixar's Onward (@pixaronward) October 10, 2019
Twitter: @pixaronward
---
The New Mutants [April 2]
20th Century Fox in association with Marvel Entertainment presents The New Mutants, an original horror thriller set in an isolated hospital where a group of young mutants is being held for psychiatric monitoring.
When strange occurrences begin to take place, both their new mutant abilities and their friendships will be tested as they battle to try and make it out alive.
in with the new. pic.twitter.com/WPsV7XCB4I

— New Mutants (@NewMutantsFilm) January 6, 2020
Twitter: @NewMutantsFilm
---
No Time To Die [April 8]
In No Time To Die, Bond has left active service and is enjoying a tranquil life in Jamaica. His peace is short-lived when his old friend Felix Leiter from the CIA turns up asking for help.
The mission to rescue a kidnapped scientist turns out to be far more treacherous than expected, leading Bond onto the trail of a mysterious villain armed with dangerous new technology.
ICYMI Celebrate #JamesBondDay with the first poster for #NoTimeToDie #Bond25 pic.twitter.com/fnONEWdGzh

— James Bond (@007) October 5, 2019
Twitter: @007
---
Black Widow [April 30]
Black Widow follows a wanted Natasha (Scarlett Johansson) on the run from the US government for helping a fugitive Captain America escape with Bucky.
On her own and without the Avengers by her side, Natasha is compelled to revisit unfinished business from her past. She will come face-to-face with the Red Room, a mysterious organization that trained Black Widow and hundreds of other girls just like her.
Twitter: @Marvel
---
Wonder Woman 1984 [June 5]
Fast forward to the 1980s as Wonder Woman's next big-screen adventure finds her facing two all-new foes: Max Lord and The Cheetah.
With director Patty Jenkins back at the helm and Gal Gadot returning in the title role, Wonder Woman 1984 is Warner Bros. Pictures' follow up to the DC Super Hero's first outing, 2017's record-breaking Wonder Woman.
Check out the new character posters from #WW84 - in theaters June 5. pic.twitter.com/O27ARDQHpA

— Wonder Woman (@WonderWomanFilm) December 8, 2019
Twitter: @WonderWomanFilm
---
Top Gun: Maverick [June 26]
After more than thirty years of service as one of the Navy's top aviators, Pete "Maverick" Mitchell (Tom Cruise) is where he belongs, pushing the envelope as a courageous test pilot and dodging the advancement in rank that would ground him.
When he finds himself training a detachment of Top Gun graduates for a specialized mission the likes of which no living pilot has ever seen, Maverick encounters Lt. Bradley Bradshaw (Miles Teller), call sign: "Rooster," the son of Maverick's late friend and Radar Intercept Officer Lt. Nick Bradshaw, aka "Goose."
Facing an uncertain future and confronting the ghosts of his past, Maverick is drawn into a confrontation with his own deepest fears, culminating in a mission that demands the ultimate sacrifice from those who will be chosen to fly it.
Feel the need. Watch the NEW #TopGun: Maverick trailer tomorrow. pic.twitter.com/8iAMhcEBI4

— Top Gun (@TopGunMovie) December 15, 2019
Twitter: @TopGunMovie
---
Ghostbusters: Afterlife [July 10]
From director Jason Reitman and producer Ivan Reitman, comes the next chapter in the original Ghostbusters universe.
In Ghostbusters: Afterlife, when a single mom and her two kids arrive in a small town, they begin to discover their connection to the original ghostbusters and the secret legacy their grandfather left behind.
#Ghostbusters arriving Summer 2020. Trailer Monday. pic.twitter.com/wpmEgRjYpn

— Ghostbusters (@Ghostbusters) December 6, 2019
Twitter: @Ghostbusters
---
The Conjuring: The Devil Made Me Do It [September 11]
The Conjuring: The Devil Made Me Do It – only in theaters September 2020. #TheConjuring pic.twitter.com/zrRJ0ua5ZZ

— The Conjuring (@TheConjuring) December 8, 2019
A chilling story of terror, murder and unknown evil that shocked even experienced real-life paranormal investigators Ed and Lorraine Warren.
One of the most sensational cases from their files, it starts with a fight for the soul of a young boy, then takes them beyond anything they'd ever seen before, to mark the first time in US history that a murder suspect would claim demonic possession as a defense.
Twitter: @TheConjuring
---
Halloween Kills [October 16]
The saga of Michael Myers and Laurie Strode isn't over. #HalloweenKills #HalloweenEnds pic.twitter.com/uPgyJydyl6

— #HalloweenKills (@halloweenmovie) July 19, 2019
Twitter: @halloweenmovie