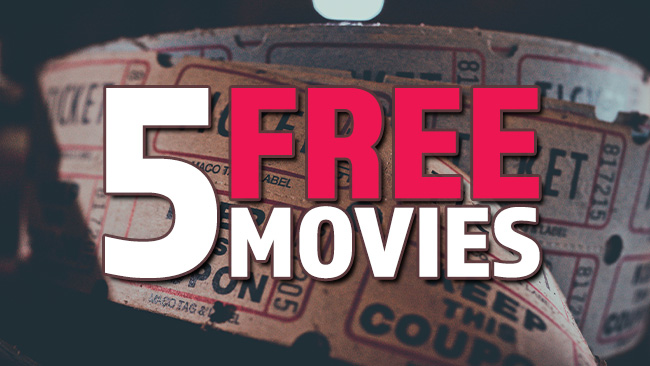 The weekend is here and what better way to relax than with a good movie. And what's better than a good movie?
A FREE movie or 5 if you take these recommendations. If you have a library card, then chances are you can access Kanopy for FREE!
What is Kanopy? It's an online streaming service that has partnered with local libraries all over the world to bring high-quality and thoughtful movies. To use the service, all you need is your library card number and your pin number to access the Kanopy website.
Without further ado, here are 5 FREE Movies you can watch this weekend on Kanopy.
Prospect (2018)
A teenage girl and her father travel to a remote alien moon, aiming to strike it rich. They've secured a contract to harvest a large deposit of the elusive gems hidden in the depths of the moon's toxic forest. But there are others roving the wilderness and the job quickly devolves into a fight to survive.
Forced to contend not only with the forest's other ruthless inhabitants, but with her own father's greed-addled judgment, the girl finds she must carve her own path to escape.
The Dressmaker (2015)
Based on the best-selling novel by Rosalie Ham, The Dressmaker is a bittersweet, comedy-drama set in early 1950s Australia.
Tilly Dunnage, a beautiful and talented misfit, after many years working as a dressmaker in exclusive Parisian fashion houses, returns home to the tiny middle-of-nowhere town of Dungatar to right the wrongs of the past.
Not only does she reconcile with her ailing, eccentric mother Molly and unexpectedly falls in love with the pure-hearted Teddy, but armed with her sewing machine and incredible sense of style, she transforms the women of the town and in so doing gets sweet revenge on those who did her wrong.
Watch The Dressmaker on Kanopy
Lady Macbeth (2017)
Rural England, 1865. Katherine is stifled by her loveless marriage to a bitter man twice her age, whose family are cold and unforgiving.
When she embarks on a passionate affair with a young worker on her husband's estate, a force is unleashed inside her, so powerful that she will stop at nothing to get what she wants.
Lady Macbeth is a 2016 British drama film directed by William Oldroyd and written by Alice Birch, based on the novel Lady Macbeth of the Mtsensk District by Nikolai Leskov.
Lion (2016)
This Oscar-nominated family drama tells the story of Saroo, a young boy who gets lost on a train which takes him thousands of miles across India, away from home and family.
Saroo must learn to survive alone in Kolkata, before ultimately being adopted by an Australian couple.
Twenty-five years later, armed with only a handful of memories, his unwavering determination, and a revolutionary technology known as Google Earth, he sets out to find his lost family and finally return to his first home.
Boy (2010)
Boy is a dreamer who loves Michael Jackson. He lives with his brother Rocky, a tribe of deserted cousins and his Nan.
Boy's other hero, his father, Alamein, is the subject of Boy's fantasies, and he imagines him as a deep-sea diver, war hero and a close relation of Michael Jackson (he can even dance like him). In reality, he's "in the can for robbery".
When Alamein returns home after seven years away, Boy is forced to confront the man he thought he remembered, find his own potential and learn to get along without the hero he had been hoping for.