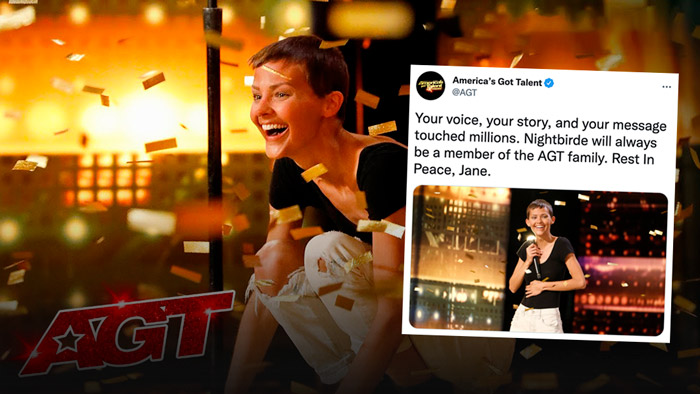 Jane Marczewski, also known as Nightbirde has died after losing her battle with cancer, her family has confirmed. Inspiring many with her performance on America's Got Talent, the 31 year-old singer had been battling cancer since 2017.
In 2021, Nightbirde performed an original song on America's Got Talent, which quickly became a viral hit with almost 40 million views at the time of writing. Her performance of her song "It's OK" impressed all four judges (Howie Mandel, Simon Cowell, Sofia Vergara, and Heidi Klum) and the audience with a standing ovation.
The emotional moment earned her a "Golden Buzzer" from Simon Cowell and won the hearts of many around the world. Unfortunately due to her illness, Marczewski had to pull out of the competition to take care of her health.
Article continues after this ad
Advertisement
In Marczewski's last update on social media on January 12th, 2022, she said, "Honestly, things have been pretty brutal. But this is a photo of myself from last week where I felt pretty, and alive, and awake, and human, and real. I needed that. We're all a little lost and it's alright. 🕊"
Reports say the singer passed away on Sunday the 19th of February 2022, after the cancer had metastasised to her lungs, spine and liver. Judge Howie Mandel remembered the late artist, calling her a 'bright inspirational light' on his Twitter:
@_nightbirde was such a bright inspirational light in all our lives.we must continue to live and learn from her words and lyrics. As much as I feel horribly about her passing I feel lucky to to have met, heard and known her.

— Howie Mandel (@howiemandel) February 21, 2022
America's Got Talent host and actor Terry Crews also took to social media to send his condolences.
Article continues after this ad
Advertisement
After being diagnosed with breast cancer in 2017, she was declared cancer-free in 2018 however it returned in 2019. She was given three to six months to live but continued to fight being again declared cancer-free in 2020. Marczewski then appeared on AGT in 2021, revealing the cancer had spread to her lungs, spine and liver and had only 2% of survival and sadly died at the age of 31 in February 2022.
Your voice, your story, and your message touched millions. Nightbirde will always be a member of the AGT family. Rest In Peace, Jane. pic.twitter.com/dhKdrecEIv

— America's Got Talent (@AGT) February 21, 2022
Marczewski released two EP's, Lines in 2012 and Ocean & Sky in 2013 and her single "It's OK" (Live at Maple House Sessions) went to number one on the Australian and Canadian Digital charts and number three on the US digital chart.
She got her stage name "Nightbirde" from a repeated dream she had, saying, "It felt so poetic that these birds were singing as if it were morning, and yet there was no sign of it yet, and that's what I want to embody."
Article continues after this ad
Advertisement
Image Credits: (America's Got Talent / Youtube | @AGT / Twitter)