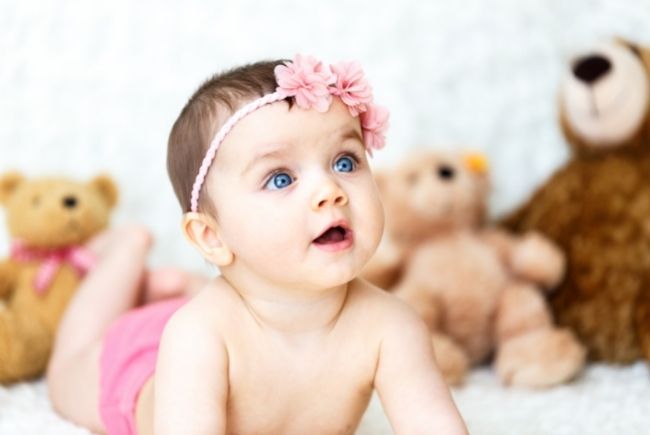 The top baby names in Australia have been revealed, with a new name topping the girls list for the first time since 2015
Move over Charlotte – Isla is now the number one baby name for girls, according to McCrindle's Baby Names Australia Report 2022.
Isla has pushed Charlotte – which held the top spot for the past seven years – into second place, followed by Olivia, Amelia and Ava.
Article continues after this ad
Advertisement
Oliver continues its nine-year reign as the most popular name for boys, followed by Noah, Jack, Henry and William.
The report shows the top 100 boys and girls names given to Generation Alpha across Australia, which are babies born from 2010 (the year the iPad debuted, in case you need a marker) through to 2024.
Top 10 girls names for 2022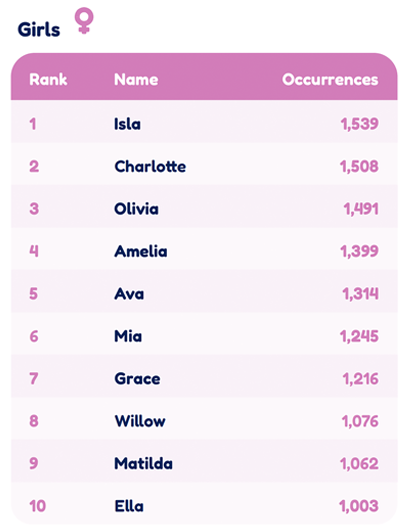 Image: Supplied
Article continues after this ad
Advertisement
Top 10 boys names for 2022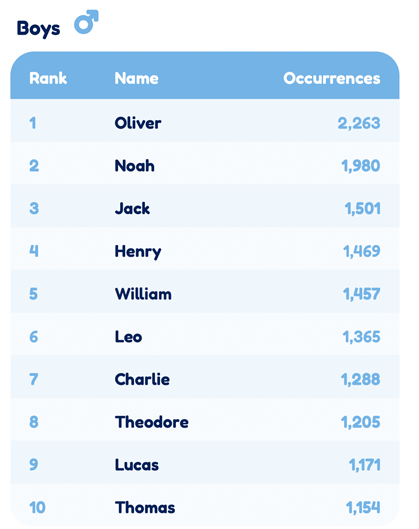 Image: Supplied
What names are falling out of favour?
For girls, Jasmine, Lara and Summer have seen the biggest falls in their ranking in the top 100, while Connor, Luke and Nicholas have fallen the most for boys names.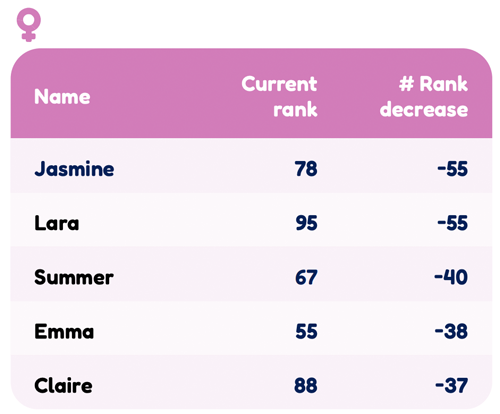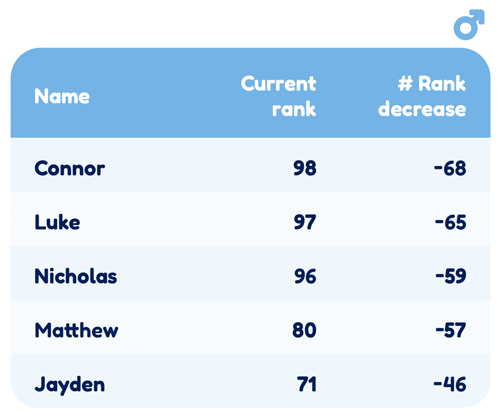 Images: Supplied
Article continues after this ad
Advertisement
How are names being influenced?
Millennial parents of Generation Alpha are still looking to be unique for girls' names, while relying on more traditional names for boys.
Some of the trends that are influencing parents as they choose names include:
Botanic-inspired names for girls – eg Willow, Lily, Ivy, Violet
Nature and atmosphere names – eg Luna, Aurora, Stella for girls; and Kai, River, Bodhi for boys
Nicknames for first names – eg, Jack outranks Jackson, Bella outranks Isabella
Place names – eg Charlotte, Sienna, Georgia,
Colours – eg Ruby, Hazel, Scarlett
And what the report calls the "100-year-return" where popular names from the turn of the previous century make a come-back – eg Grace, Stella, Jack
What names are gaining popularity?
Article continues after this ad
Advertisement
New names in this year's top 100 include for the girls, Riley, Lyla, Indiana, Nora, Heidi and Zoey; and just three new entrants for boys being Miles, Nicholas and Elias.
The biggest increases in popularity for girls include Willow (+66), Florence (+64), Violet (+64), Ivy (+53) and Audrey (+50); while for boys it is Theodore (+88), Leo (+85), Hudson (+81), Hugo (+66) and Arlo (+65).
Some of the most popular names that have debuted in the last decade for girls include Hazel, Florence, Daisy, Frankie, Luna, Ayla, Sadie, Billie, Millie, Aurora and Mila. And the popular boys names are Theodore, Hudson, Arlo, Archer, Harvey, Carter, Arthur, Sonny and Asher.
Names to watch
The girls names Mila and Sadie first appeared in the top 100 list in 2019 and are steadily rising up the ranking along with Remi, Maeve and Delilah.
Article continues after this ad
Advertisement
For boys, Arthur, Ari, Ezra, River, Theo, Billy, and Luka have been steadily growing in popularity.
The Royal influence
The British Royal Family continues to have a strong influence on Alpha baby names in Australia. Although Charlotte has dropped one spot and William has dropped three spots since 2017, in this same time period Archie has moved up 20 spots to 13th, George has moved up eight spots to 27th and Louis has moved up 28 spots to land at 45th in the boys ranking.
The celebrity influence
Article continues after this ad
Advertisement
On the celebrity front, the increasing popularity of girls' name Isla can be attributed to Aussie actress Isla Fischer. Other celebrities whose names have had big jumps in popularity in the top 100 ranking include actress Millie Bobby-Brown of Stranger Things fame along with singers George Ezra (with parents choosing both his names for their bubs) and Billie Eilish.