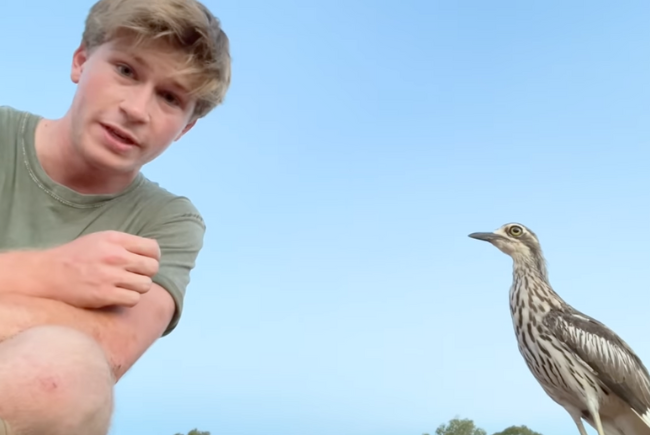 Have a laugh as Robert 'the Bird Whisperer' Irwin encounters an adorable curlew with anger management issues
Australia Zoo has uploaded a very funny video of Robert Irwin trying to deal with one tiny but mighty curlew called Emily.
She's got anger issues, and Robert's here to teach her some manners in a series of video blogs on social media.
Article continues after this ad
Advertisement
Robert tries to introduce the clip but Emily nips at him and pulls at his hair, resulting in a string of ow's and oh's and ah's from Robert.
"It's alright if you're angry, it's okay, but there's better ways to deal with it than to lash out," Robert tells Emily. She responds by giving him major side eye then coming at him for some more bites.
Robert keeps his cool throughout the fun clip, and even asks Emily if she wants to say anything.
We get cute curlew sounds…. and undoubtedly some strong bird language.
Use your words Emily, but not like that!
Article continues after this ad
Advertisement
Stay til the end, when you'll see if Robert's managed to help her become a mild mannered curlew.

It's an Emily vibe
Of course, with that sassy but loveable personality, Emily has become a bit of a superstar and is now featured on a clothing range celebrating her "Emily vibes".
In an Instagram post, Robert explained how Emily came to be hanging out with him.
"She showed up one day at one of our remote conservation properties in outback Australia. Even though she is a wild bird, she immediately formed a bond with the humans that she interacted with and consistently followed us around for hours on end. But sometimes, she wakes up and chooses violence, promptly attacking for no real reason. She has no eggs to defend, just some serious anger management issues."
Article continues after this ad
Advertisement
Main image: YouTube/AustraliaZoo