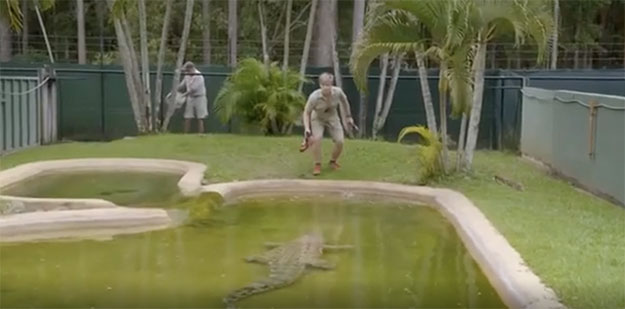 Robert Irwin has had a frightening encounter with a fierce crocodile who tried to take a bite out of him instead of the tasty chunk of meat being offered.
Robert describes the encounter as "one of the most intense croc feeds I've done!"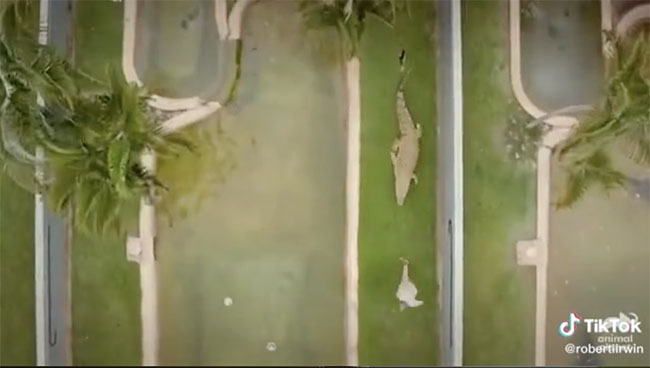 The close call happened during the final episode of Crikey It's The Irwins filmed at Australia Zoo when Robert entered the enclosure of Casper, "their wildest crocodile".
Article continues after this ad
Advertisement
It was Robert's first time feeding Capser in his new enclosure and he didn't know how he creature would react. "And honestly that's quite terrifying," Robert admits in the footage shared to his socials, which has had more than a million views on Instagram and the same on TikTok.
Robert was visiting Casper to see if he was setting into his surroundings and was happy enough to be the star of their midday croc show.
"We want to see a nice, big reaction out of him," Robert explains as he stands near the crocodile holding a huge chunk of meat in his hand. "That's how we know he's happy."
And boy did he get a big reaction!
In the tense footage, the nearly 4 metre 350kg crocodile emerges from the water and quickly moves towards Robert while snapping his huge jaws.
Article continues after this ad
Advertisement
"Yeah he's keen," Robert says. But then Casper continues moving towards Robert and gets perilously close as he continues lunging and snapping his jaws.
"Bail, bail, bail," Robert says as he throws the meat at the croc and runs for safety.
Despite the scary situation, Robert handled it well and commented in his post caption that "safety for us is also crucial and you definitely have to know when to call it. And with such a powerful and quick croc like Casper we had no choice but to bail!"
Article continues after this ad
Advertisement
He also earned much praise on social, with the footage bringing back memories of his dad.
"It's like déjà vu watching and listening to him. He's so much like his dad it's crazy, I just know he's so proud of everything you're doing. ❤️" one commenter wrote, while another predicted that "Casper is a gorgeous fella 🤩 I think you'll be mates before you know it!"
Images: Instagram/robertirwinphotography